The 7 Skills you need to Master to become a successful property investor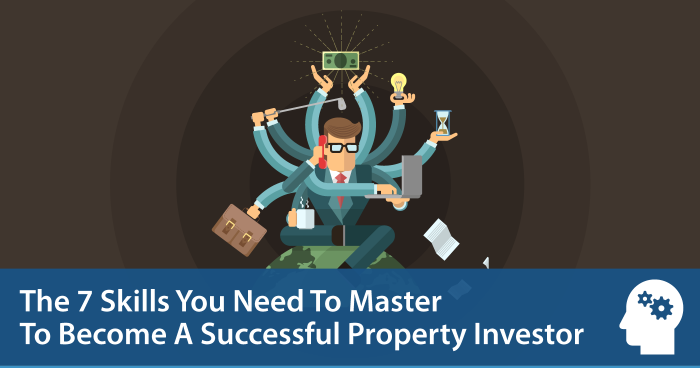 There's a lot of information out there that focusses on the technicalities of investing in property.
In fact, there's so much content available on property investing strategies that most people are just too overwhelmed to do anything!
Today, I want to take a look at some of the invisible qualities of a successful property investor…
It's time to switch off from all the noise around the latest strategy, how to get the best finance or where the most profitable hotspot is.
15 Real Deal Case Studies… For Free!
No contracts, no feasibilities, no agents, no banks
Let's get down to brass tacks… the stuff most educators don't talk about.
I'm talking about the glue that holds a great property investor together day in, day out… I'm talking about:
The 7 Skills you need to Master to become a successful property investor.
#1 Eliminate Fear or Learn to Use It
Fear doesn't go away so you might as well use it right? I used to run from fear but now I embrace it as my friend… man, I even get excited when fear presents itself because I know the rewards on the other side if i face it head on.
We're all human so at some point you're going to get tripped up by negative thoughts… Here's a 5 step plan to get over it real fast.
#2 Efficiency
Making the most of your time is critical if you intend to transition from full time employee or business owner to full time investor. Our society is so caught up with making sure everyone is busy, busy, busy… but why?
It's time to start getting crystal clear on where you should be allocating your time and I'm not just talking about the 80/20 rule… this blog has a surefire method on how to get more long weekend into your life
#3 Invest in you
You want to stay sharp so you have the edge over other property investors in the market right? Try investing in your most valuable asset – your mind! You wouldn't bat an eyelid throwing $50k and hundreds of hours of blood, sweat and tears renovating a property… well how about adding some value to something you use 24/7.
Check out the smartphone app I've been using every single day for the past 12 months to keep me calm, focussed and results orientated
#4 Stay in the Black
Understand that more money won't solve your financial stress. Everybody loves to spend right? Well if your income exceeds your expenses, you've got a problem and adding more cash will only fuel the fire.
Get access to a tool I've been using for over a decade that keeps me profitable year in, year out.
#5 Team Effort
Property investing is a team sport and I had to learn the hard way that trying to do this alone gets you nowhere fast. The sooner you start building a team around you and sharing the workload, the sooner you're on the road to success.
The story you're about to read is the one single reason I've had so much success in property and it took me years to realise it
#6 Consistency
This is my #1 critical success factor for achieving anything… especially wealth creation. Whatever you do towards achieving your property investing goals, it must be consistent. It sounds simple yet so many people fail at this.
Ultimately it's about getting realistic about the amount of time you have available to spend on becoming a full time property investor and committing to that timeframe on a consistent basis.
Don't be the weekend warrior spending 4 hours one Saturday a month inspecting property followed by no action for the next 21 days.
Pick an amount of time you can commit to daily and do that…. Every day!
Check out my selfie video (and some of the French countryside while you're at it!)
#7 Goal Setting
Now I know goal setting has been done to death but hear me out. Each and every one of us gets to choose our path forward but most tend to just float along with whatever is being served up to them. If you want something to change you have to DECIDE to make it happen and setting goals is a critical part of that process.
Here's my 3 step process to get your goals on track
The Property Oracle is BACK!
Discover:
How to accurately

predict

if your local property market is headed for an upturn, downturn, stagnation, or recovery!
Where are construction prices headed?
What's the

latest

outlook for the housing market?
What's next for interest rates? And…
Where's the low hanging fruit going to be?
This FREE live broadcast may be the most important property webinar you attend this year!