New dates just announced!
Finally! A Proven Path To
Explosive Property Income!
Formerly known as the "JV Bootcamp", this event has become one of the most highly anticipated conferences of the year.
And it's no wonder!
If you have a cracker deal but lack funding – this event shows you how to solve all your funding problems in minutes!
If you have cash or access to servicing but can't find a deal – I will show you how you can start earning predictable, 12%-18% return on investment – without you lifting a finger or doing any of the hard work!
In just three days, you will go from newbie to Joint Venture expert – giving you access to the fastest way I know to create wealth safely and predictably.
Achieving Phenomenal Results…TOGETHER!!!
In just three days, you will go from noob to Joint Venture expert – giving you access to the fastest way I know to create wealth safely and predictably.
When I had no money, Joint Ventures got me out of my minimum-wage life and allowed me to transact over $5 million dollars in property.
Then when I had money, investing in other people's projects is how I could afford my family's 2.5 year "early retirement" vacation in France…
…all paid up through passive joint venture income!
And it's not just me.
Property Launchpad graduates are already earning huge wads of cash using my very system:
Jim Valery made $300k after the last bootcamp!
Hoa Nguyen and Peter teamed up and made $136K profit in 5 months
Simon Johnson is now earning 18% on his money!
And those are just the graduates of ONE Property Launchpad retreat!
One graduate earned $70k in a few months as a money partner – without lifting a finger!
Others have left the stock market slaughterhouse behind.
Now they earn 18% pa interest on their savings day in, day out.
And needless to say…
If you have a deal that stacks up…
Being able to now get it funded within minutes will be a total GAME CHANGER for you!
Now You Can Do This Too
Safely And Easily!!!
Whether you are the active-investor type…
Or the money-partner type…
You can do this too – safely and easily!!!
That's where I, and the Property Launchpad event, come in.
With my team of experts, I'm going to walk you through everything you need to know.
And usher you into this exciting world of profitable joint ventures:
Where to find a deal partner
How to vet a potential JV partner the right way
Legal & tax implications – – and how to handle them correctly
How to protect your assets in a JV partnership!
What to do so things don't go pear-shaped
What are the steps to setting a partnership up?
How to minimise tax costs and other costs!!!
Until recently, the ONLY way for you to get into the world of joint ventures was…
With a lot of trial and potentially painful error.
You can't just open a book and learn how to do these things.
There are none.
Nor can this information be found anywhere else online or offline. 
You'd need to invest a lot of money in hiring solicitors… accountants… tax advisors…
… and many other expensive professionals.
In other words - you'd have to waste a lot of time and spend a lot of money to figuring all this out on your own.
I've already figured it all out for you!
I went through the school of hard knocks.
I've made all the mistakes.
I've spent tens of thousands of dollars, creating rock-solid contract templates.
I hired the highest ranked financial and legal experts money can buy to create proper business plans and structures.
I have done all the hard work for you.
Creating the No.1, most robust and comprehensive Joint Venture system in the country. And now you can have it ALL…
My Bullet-Proof Joint Venture System… On A Silver Platter!
In just 3 days…
You will open the door to SMASHING your 2021 goals and dreams…
Making 
every deal possible for you now… and…
Forever!
No More Limitations
For The Rest Of Your Life!
The key ingredient to this event's success is not just the killer content I will be providing…
It's the NETWORKING going on 
in-between sessions.
Having founded the #1 largest property networking group in Australia, I know a thing or two about the power of networking.
And I know how to make it work and sizzle.
Want proof?
The power of networking not only changed my life...
But has also changed the lives of so many Property Launchpad attendees: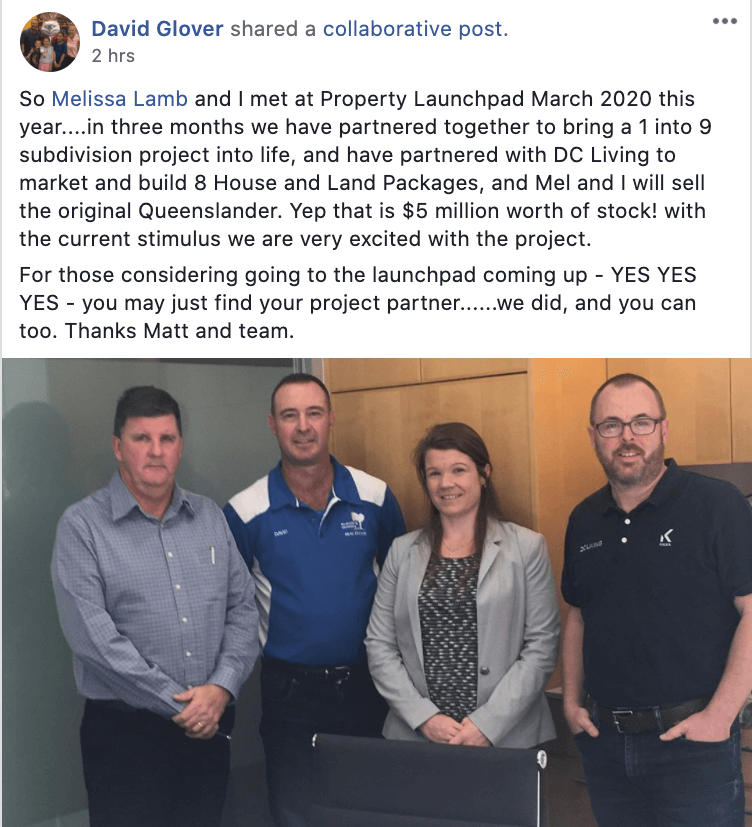 This event teaches you everything you need to know to start doing profitable Joint Venture deals…
AND…
Provides you with the critical connections you need to do this QUICKLY – and start seeing profits right away!
Many of our students find a profitable JV deal they can get involved in right at the event…
And go home with a cracker deal already in motion!
LIMITED SEATS AVAILABLE!!!
Beneficial Connections That Will Last You A Lifetime!
Obviously, you can't create lasting, mutually beneficial, strong business connections with 300 people in the room.
No.
You need a small, tight, pre-vetted group of like-minded people to create real magic!
Which is why
Seats Are EXTREMELY limited for this bootcamp
My team and I personally vet every person wanting to attend.
We ensure this event is a good fit for you, and that you are a good fit for this event!
This way, when you attend, you can be absolutely CERTAIN that –
This will be the highest-quality property event you ever attend. Guaranteed.
I've set a Cap of only 30 participants for this exclusive bootcamp.
And seats are selling fast.
If you want access to this event, 
you need to apply right now.
Let's have a 100% no-obligation chat, and see if this is right for you.
Click the button below to book a time with me now:
Do it NOW – while there are still seats left!
I look forward to chatting with you.
Matt Jones