How Does A Guy Stacking Shelves At 'Coles' Make $65,000 In 6 Months?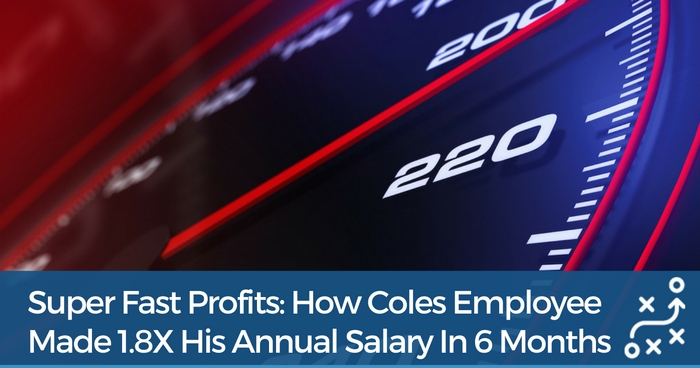 What if you could earn almost twice your annual salary in just six months?
Think that's impossible? Think you don't have the means to pull those kind of deals off where you're currently at?
Think again!
15 Real Deal Case Studies… For Free!
Meet Rhett Bowlen. Not long ago, Rhett was packing shelves at Coles – a job he loathed. He was desperate to do something else with his life… but as you can imagine, transitioning from working shifts at a supermarket to creating financial success doesn't come easy.
Still, Rhett didn't give up. In fact, he has been coming along to our property networking group meetings for about three years now and has managed to make an incredible lifestyle transition.
From Packing Shelves To Subdividing Property
How incredible? So incredible that he will NEVER have to pack shelves for a living again! In fact, very recently, Rhett was able to complete a deal that yielded a $65,000 profit – the equivalent of working for 1.8 years at his previous job – in just six months!
How did he do it? Watch today's case study to find out:
The thing I like about Rhett is that there is no ego in how he approaches property investing. He made mistakes along the way, some big, some small but was prepared to cop them on the chin and keep moving forward.
In property, you're going to get knocked down…. A lot. So you need a big enough reason to be able to get back up again and fight another day.
If you can take responsibility for your mistakes (whether they're your fault or not) and not be afraid to ask for help, you'll go a long, long way as a property investor.
How You Can Repeat Rhett's Results… Faster Than You Might Think!
If you too are tired of swapping time for money, and if you like the kind of subdivision strategy Rhett used, you're definitely going to like what I'm about to share with you.
Since I released my DIY Subdivision Kit a few years ago, investors from all over the country have used it to create massive returns on their investments.
But about 9 months ago it came to my attention that…
Some People Bought The Kit… But Had Done

Nothing

With It!
I put a lot of blood, sweat, and tears into that educational resource… and the last thing I wanted was to let it become something that just gathered dust on someone's bookshelf!
I wanted people to take the knowledge and get out there – and have a red-hot go at improving their lives and the lives of their loved ones.
But I'm not the kind of guy who just sits down and writes rants on his blog… So I did something about it.
I restructured my entire membership site and created something that would bring the DIY Subdivision Kit off the bookshelf… and turn it into a living, breathing tuition course that literally changes lives.
Introducing: Ultimate Property Hub Membership site… Featuring ALL my DIY Kits (including the DIY Subdivision Kit!) – now converted to my Masterclass series!
Is This For You?
If you ever bought an educational resource that promised to resolve all your financial struggles but never gave you a true return on your investment – then this type of teaching structure will suit you down to the ground.
I believe in it so much that it's one of the few times where I've included some consistent access to me on a regular basis… dare I say it, it's a bit like mentoring.
Click here to discover if the Ultimate Property Hub is for you
So if you think you could benefit from working directly with me on your property investing, check it out now while there are still seats left.
I hope to see you on the flip side!
Cheers,
Matt
The Property Oracle is BACK!
Discover:
How to accurately

predict

if your local property market is headed for an upturn, downturn, stagnation, or recovery!
Where are construction prices headed?
What's the

latest

outlook for the housing market?
What's next for interest rates? And…
Where's the low hanging fruit going to be?
This FREE live broadcast may be the most important property webinar you attend this year!