Subdivider? Help Create Australia's First State by State Pricing Guide For Subdividing Property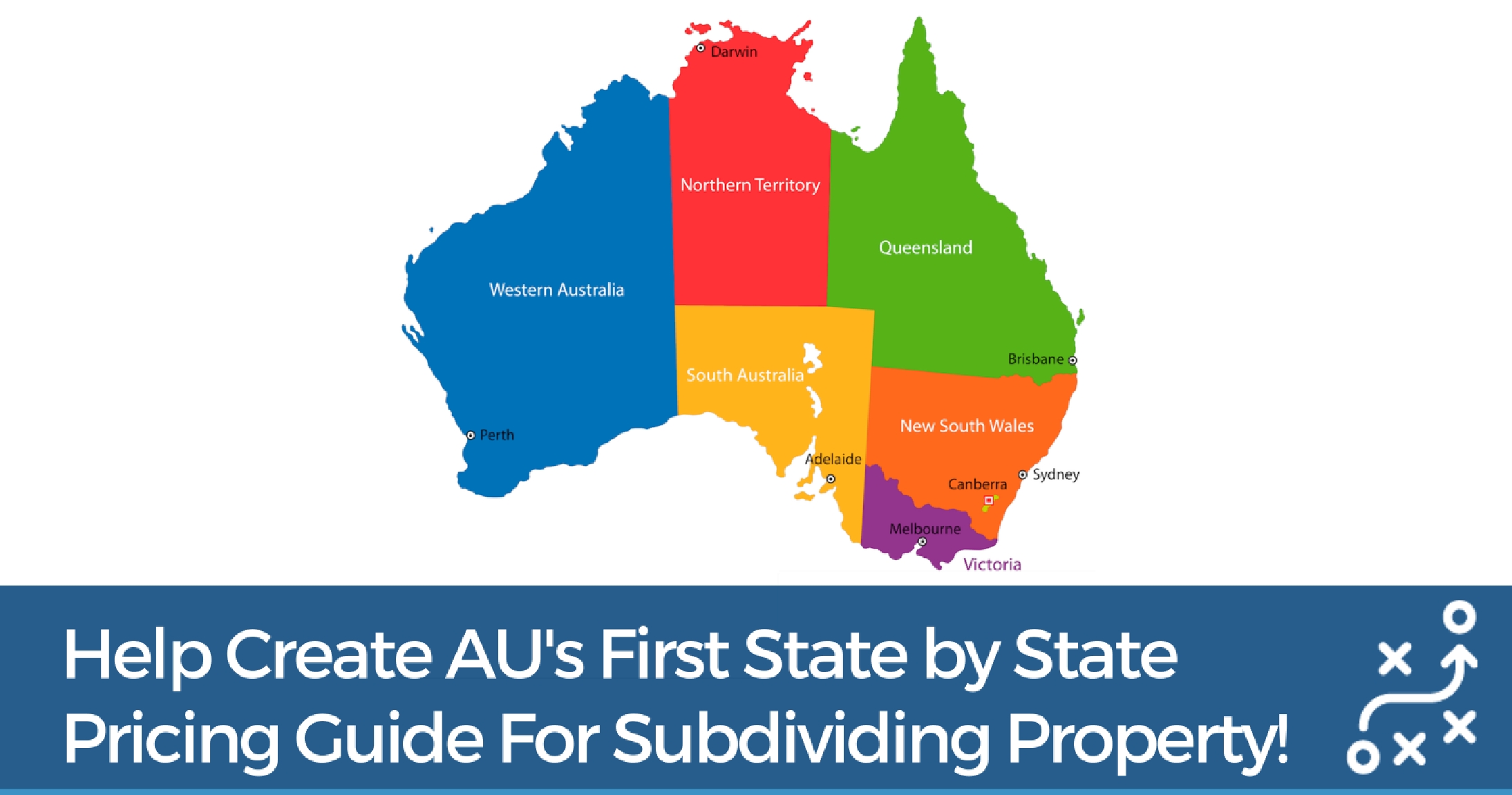 I Need Help!
I have decided to create Australia's first state by state pricing guide for subdividing property – and if you have completed subdivisions in VIC, NSW, SA, NT, Tasmania, or WA – I need your help.
15 Real Deal Case Studies… For Free!
In return, you will get eternal glory… And free access to the first issue of the guide 🙂 Here's what this is about.
A few months ago I published this blog post, and it's been my most visited one ever since:
A lot (A LOT!) of you have contacted me asking to do the same for other states. The thing is – as you've surely noticed – subdivision costs vary drastically from one state to the other, and there's no dependable, organised source of information for investors.
And that means everyone needs to figure costs out on their own.
Not For Long!
I have decided to create a new service that will finally give an up-to-date answer to this burning question, and help property investors from all across the country plan their subdivisions smarter – and earn better.
But collecting this information is very time-consuming. Then yesterday – it hit me. "I have one of the best property communities in the entire world! Why not reach out and ask them for help?!"
What You Need To Do
If you want to be a part of this exciting new project (and get free access to the final product and a few other perks), here's what I need you to do.
Leave a comment below with your name and state in which you've run subdivision projects. Make sure to enter the right email address so I can send you the final report when it's ready.
In your comment, list (preferably with as much detail as possible) the costs you are aware of in your state. Use any metric you deem fit (cost per square meter, cost per unit, cost per application, etc.)
Here are some expenses I expect to find in any subdivision project – but they might not all apply to your state. And please let me know if there's anything I've missed!
Demolition Costs
Detailed Survey
Planning Report
Soil Test
Public Notification
Council Application & Fees
Council Contributions
Registering Titles
Sewer And Water
Stormwater handling
Installation of Services (electricity and telecommunications)
Compliance Certificates
Driveways and Crossover
Fencing
EarthWorks and Retaining walls
Fire hydrant
Extra footpaths
Additional reports that document impact on wildlife habitat, bush fire hazards, vegetation or heritage overlays
Relocation of bus stops, Council signage, Telstra or Energex service pits
Tree removal
Contingency
If you don't feel comfortable posting this information publicly, you can also email me at [email protected] 🙂 But I think posting it on the blog will allow you to connect with others from your state and collaborate! 🙂
Please leave your comment below. Thanks for your help. I look forward to your answers!
Cheers,
Matt
The Property Oracle is BACK!
Discover:
How to accurately

predict

if your local property market is headed for an upturn, downturn, stagnation, or recovery!
Where are construction prices headed?
What's the

latest

outlook for the housing market?
What's next for interest rates? And…
Where's the low hanging fruit going to be?
This FREE live broadcast may be the most important property webinar you attend this year!