Subdivision Costs QLD: A Complete List Of The Costs You Need To Budget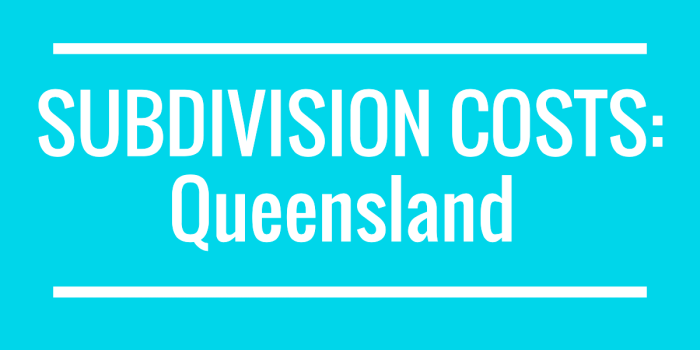 "What are the typical subdivision costs in QLD?"
This is one of the most popular questions I get asked when chatting to property investors. It's second only to "how do I find a great deal?"
It's a great question and was the reason I wrote the DIY Subdivision Kit and provide access to hundreds of members inside the Ultimate Property Hub.
Finding out those key expenses is not always easy, especially when you don't know where to look or who to ask. So I figured why don't I just share all the juicy details right here!
So over the coming months I will focus on particular areas of Australia seeking out the answer to:
"What does it cost to subdivide a property in <BLANK>?
As QLD is my investing stomping ground, I'm going to start there. And if you have somewhere you would like me to review next – please let me know in the comments below.
Subdivision Costs In QLD
There are 5 main costs to consider when buying a property:
Purchase price (What you pay for the property)
Purchase costs (stamp duty, legals, building and pest inspections, soil tests etc)
Adding value costs (in this case, subdivision costs)
Holding costs (mortgage repayments, insurance, rates etc)
Selling costs (I always like to include this even if you don't intend to sell. Working out the end sales value helps you think about exit strategies before you even sign a contract)
15 Real Deal Case Studies… For Free!
You can work out the above five expenses using online calculators. Even better, you can download my free 2 minute deal assessment formula to get it done even quicker!
So let's break down point 3, the subdivision costs.
Subdivision costs will vary greatly from state to state and council to council. Today we are focusing on QLD only. Still, you can use this info to make sure you're at least asking the right questions wherever you are!
Subdivision Costs QLD: Demolition Costs
You won't always need to demolish a dwelling to subdivide a property, but it is common. Often you have a house that's positioned in the wrong spot.
I like to factor in about $20k to have a 3 bedroom home pushed over. This includes having services capped off so the site is safe and ready for the next phase.
Contact Mike Crosby form Crosby House Removals for a specific quote: 0418 886 518
Subdivision Costs QLD: Detailed Survey
A detailed survey is the key to starting the process of a subdivision application. It's required before you can submit your application to the relevant council for approval.
The application includes:
The boundary realignment you are proposing
The multiple lots you are planning to create
Setbacks and dimensions of existing dwellings
Information on contours, easements and services to the site.
The cost will vary depending on the size, slope and access to your site. A town planner or a surveyor will be able to give you an accurate cost for this in their fee proposal.
The surveying component in a simple subdivision is often in the $7000 – $10000 range that comprises of:
Initial Site Contour and Detail Survey and Proposal Plan to accompany DA – $2250 – $2750
Final Lot and Easement Marking and supply of Survey Plan suitable for Plan Sealing and subsequent Titles lodgement – $3500 – $4250
As-Constructed Survey – Location of new services to specific requirements – $1750 – $2250
The latter two can only be done by a Cadastral Surveyor registered with the Surveyors Board of Queensland. Contact Howard Cutler from ONF Surveyors for a complete fee proposal
Subdivision Costs QLD: Planning Report
This is the package submitted to council, along with the application to subdivide. It contains a lot of specific details about the proposed subdivision. Usually done by the town planner, it can cost around $4000.
Your town planner will quote you on this.
Subdivision Costs QLD: Soil Test
A soil test is always worth doing if you or a future owner is going to build on the site. Make sure you conduct a soil test as part of your due diligence. You want to ensure that there are no hazards that would prevent you from building on the site.
The soil test will also detail the type of soil you have on your hands. This will affect the foundations required for a dwelling – hence the cost incurred.
Expect a soil test to be around $650.
Subdivision Costs QLD: Public Notification
You need to allow local residents to comment on your proposed subdivision. You'll do this by issuing a public notification. The process includes:
Erecting a sign to noting all details of the subdivision submission
Running advertisements in the local paper
Mailing letters to neighbouring properties.
Expect to pay between $700 and $1000 for this process.
Subdivision Costs QLD: Council Application
Your town planner should include council application costs in your fee proposal.
This covers the generation of a package of documents to submit to council. It includes the proposed detailed survey plan, as well as other documents.
The price varies depending on the complexity of the site. An approximate cost for this service could be around $3000.
Subdivision Costs QLD: Council Application Fees
With each application, council expects an accompanying fee to go with it. This will vary from council to council and your town planner will detail these costs for you.
Budget around $3000 for developer compliance fees and a subdivision application fee.
Subdivision Costs QLD: Council Contributions
This cost could well be the most expensive item in the entire process.
By subdividing a property you are increasing the population of the area. For the council, increasing population means increase in infrastructure costs. So most councils will require you to pay a levy to assist with these increased costs!
There is a dramatic variance in this cost. You will need this to be accurately estimated by your town planner.
In Brisbane you can expect to pay around $27,000 per extra lot that you create.
Bear in mind that this cost can be deleted if your site already has two lots on one title. IE. a splitter block since it is effectively already subdivided.
Subdivision Costs QLD: Registering Titles
This is a set fee and depends on the amount of titles you are registering. You can call the local land registry office to find out the exact figure for your area.
A simple one into two lot subdivision would incur a fee of approximately $330.
Subdivision Costs QLD: Sewer And Water
Once you create a new lot you may need to provide services to the new property. This is not always compulsory so check with your local council or town planner in regards to this.
If you are intending to build, it may be beneficial for you to install the following services. (This also applies if you're expecting to sell the block to someone that wants to build!)
Sewer: The cost to bring that service to your property varies. It depends on where the main sewer pipe is and how that pipe is accessed.
If the sewer main is already on your site or accessible via the street you can expect to pay between $7500 to $10,000. This includes design, draft, and installation.
Water: Much like the sewer costs, it varies. Depending on where the main water line is, and how accessible it is.
If the water line is at the front of your property, under the road, you should expect to pay between $3000 and $6000. This includes design, draft, and installation – including a new water meter.
Stormwater: You need to make sure that rainfall is properly directed to the street. You'll do this by either extending the existing stormwater pipes, or installing new ones.
Cost will largely depend on the site, so you will need a specific quote for this task from a private plumber. Budget about $2000 for a reasonably flat 1000m2 site.
Be prepared to increase this amount for larger sites and be guided by your town planning and/or civil engineering consultants.
Bear in mind if you have a larger site you made need an overland flow report which the town planner can assist with.
Subdivision Costs QLD: Installation of Services
Electricity and Telecommunications: Do you need to bring power to the site? Do the services run overhead, or underground? These factors will cause a large variance in cost.
As a rule of thumb, allocate $3000 to $4000 for a one into two lot subdivision. This will include having a power pole erected and prepared for connection.
You might have higher costs for underground power. It all depends on where the services already exist.
Subdivision Costs QLD: Compliance Certificates
You will most likely need to prove that power and telecommunications can be provided. For that you'll need a compliance certificate.
An approximate cost for a compliance certificate for power and telecommunication is around $1000.
Subdivision Costs QLD: Driveways and Crossover
Creating new lots mean creating new access to the properties. You will generally need to install:
A concrete crossover
Driveway with curb
And guttering to suit.
Concrete is not cheap… so make sure you get a contractor out to quote for this.
Expect to pay $75 to $100 per square metre of installed concrete. Cost will vary depending on the type of driveway and the finish applied.
Bear in mind a battle-axe site (front and rear lot) may need a longer driveway which brings a higher cost to this part of the project.
Subdivision Costs QLD: Fencing
Fencing is not always compulsory to get the subdivision approved. However, it does help define the lots. This will help potential buyers assess their purchase.
Cost will depend on how much fencing you need and what type of fencing you're installing. For an 1800mm high Colourbond or post & rail fence you can expect to pay $85 per meter installed.
Subdivision Costs QLD: Earth Works and Retaining walls
This expense is so site specific that it's impossible to provide an estimate.
If your site slopes or has an odd access that needs earth works to reshape the site and build retaining walls, you must obtain multiple quotes.
Earthworks and retaining dirt can costs tens of thousands of dollars so be sure you are allocating accurate funds for this if required.
Subdivision Costs QLD: Other Expenses
Each site will have it's own specifics that need addressing.
It's important to communicate with your town planner to ensure there are no other site specific expenses that are not obvious.
These can include:
A fire hydrant needing to be installed on the street
Extra footpaths created
Additional reports that document impact on wildlife habitat, bushfire hazards, vegetation or heritage overlays
Relocation of bus stops, council signage, Telstra or Energex service pits
Tree removal
Subdivision Costs QLD: Contingency
It's impossible to foresee every cost for the project.
That's why it's so important to have a contingency fund available. You'll need it when extra expenses pop up. Materials can increase in cost. Something happens and suddenly you have unfavourable market conditions.
You need to be prepared.
So how can you allow for these unforeseen items?
By always being conservative with your budgeted numbers. Always allow 15% of the total costs in your contingency budget.
As you can see, there are substantial costs involved in completing a subdivision. Even more so in QLD! In fact, it may be far cheaper in your own area.
My #1 tip for you is to ensure you have a great town planner on your team. A town planner can help ascertain proper costings through a comprehensive fee proposal.
Subdividing in South East Qld?
If you're subdividing in Brisbane, I strongly recommend you get in contact with Alex Steffan from Steffan Town Planning. You can get in touch with Alex via the contact page on his website.
If you're subdividing in the Gold Coast, Ipswich or Toowoomba regions, I highly recommend Noel Grummitt from Grummitt Town Planning via their website
If you have a project in the Sunshine Coast region, get in contact with the Merv, Jason or Howard via their website
Make sure you let him know Matt says hi!
What Is The Next Area Of Australia You Want Me To Cover?
Where are you looking to subdivide? Hit me up in the comments below and I'll go on a mission to find out the costs for you!
The Property Oracle is BACK!
Discover:
How to accurately

predict

if your local property market is headed for an upturn, downturn, stagnation, or recovery!
Where are construction prices headed?
What's the

latest

outlook for the housing market?
What's next for interest rates? And…
Where's the low hanging fruit going to be?
This FREE live broadcast may be the most important property webinar you attend this year!