Property Subdivision Case Study: $105K Profit In 6 Months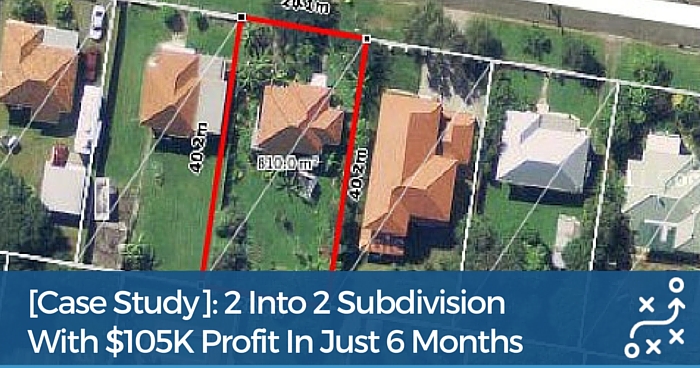 If you've been craving a real-life property subdivision case study, then today's your lucky day!
One of our Ultimate Property Hub members, Graeme Jarry, presented his "2 into 2" property subdivision project to the Brisbane Property Networking Group.
Graeme turned $105K in profit with this deal in 6 months, so it's no wonder this case study was met with outstanding feedback!
15 Real Deal Case Studies… For Free!
If you enjoy this video, you might want to consider dropping by and saying hello at our next Brisbane, Sunshine Coast or Gold Coast meetup!
What's Special About This Property Subdivision Project?
There are a few key things to note about this deal that make it special:
1) The site Graeme found was a 'widow lot'
This meant that the property had two lots on one title, but was configured in such a way that it was unusable: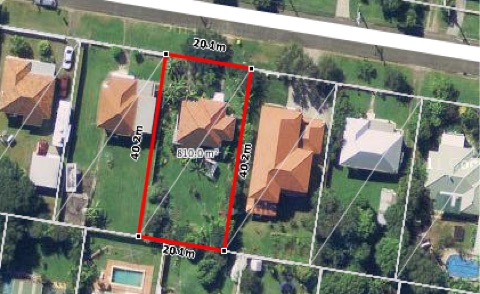 As you can see there is a diagonal line running from top right to bottom left which indicates the boundary between the two lots.
This lot configuration was done back in the 1940s when there was a spouse left behind while the other went to war. The widow block ensured the spouse couldn't onsell the extra lot.
This presents a great opportunity that Graeme seized in that he could reconfigure the lot boundaries so there were two usable lots (after the house was demolished).
What's even better is there were no council contributions, saving him $28,000 in council fees.
2) The property was not listed online
Graeme found the site because he was looking at another property and saw the for sale sign which was not actually listed online.
This is a classic example of persistence meeting opportunity because Graeme would never have seen the site if he wasn't making the effort to be on the road looking for property deals.
3) When the opportunity presented itself, Graeme took action… FAST
Graeme had the confidence to take immediate action and secure the deal before anyone else got wind of it.
This confidence comes from knowing your area intimately and having the ability to crunch the numbers quickly in order to make an offer on the spot: a $1,000 cash deposit and some special clauses were all he needed to make it happen!
Watch the video now to find out at least 5 other insights that made this deal special, and the actions Graeme took to make a $105K profit in just 6 months:
Want More Of These Case Studies?
If you enjoyed this case study you will LOVE our Property Networking Group meetups.
The meetings are packed with high quality, relevant content and come with a stack of other benefits including:
You become a part of an exclusive community of over 4,000 likeminded, high-achieving property investors
You will be learning from other everyday property investors (just like you) that present their latest property project each month. It could be a renovation, subdivision or development deal… or something more creative!
You'll hear from industry professionals share their views on the state of the market, which investing structure to use, the best finance deals and much more
Click here to find out more and to join our next meetup (first time's free!)
The Property Oracle is BACK!
Discover:
How to accurately

predict

if your local property market is headed for an upturn, downturn, stagnation, or recovery!
Where are construction prices headed?
What's the

latest

outlook for the housing market?
What's next for interest rates? And…
Where's the low hanging fruit going to be?
This FREE live broadcast may be the most important property webinar you attend this year!