Timeless Truths From Jason Marianoff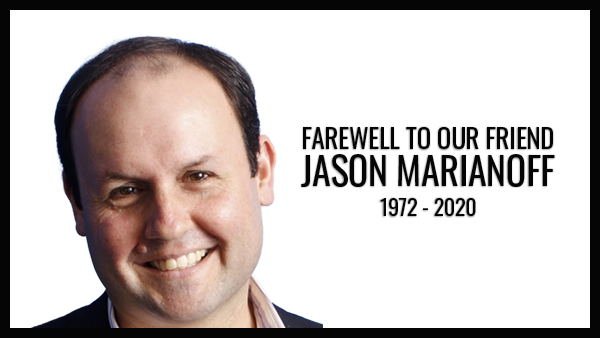 It's difficult to know what to write in this space to honour Jason Marianoff.
If you were lucky enough to meet Jason, you would know that words have little meaning when trying to describe his genuine passion to care for and inspire others.
At the time of writing this, Jason lost his 3 year battle with cancer today.
I'm very grateful and privileged to be able to share some of the amazing gifts that he left behind for all of us.
About two weeks ago, I was able to speak with Jason for 20 minutes on the phone as he lay in his hospital bed. Even then, the focus of the conversation was around being grateful to have shared time together.
He wondered how he might continue to inspire others after he is gone.
Today, that day has come. And although I am very saddened by his passing, I'm glad he has to suffer no more.
A few days later after our conversation I texted Jason asking him if I could continue his legacy so that his incredible contribution to our community could continue.
Here's a transcript of what we shared:
Hey Jase. Thanks so much for the chat this week.

I know you were in pain and I really am grateful to be able to share that 20mins with you.

I've been thinking about all you have given to me, my friends, colleagues and entire community.

I would like to acknowledge that generous and inspirational contribution if it's ok with you.

I'd like to write a blogpost dedicated to you and your amazing efforts and share the audio and video I have of you with my broader community and anyone else that can share it as well.

I know people will read it and will be inspired by you and it can remain on the public domain forever.

I know people are going to want to support you in some way so I'm wondering if there is a charity you would like me to promote in your honour.

I hope this doesn't overwhelm you and if so just ignore for now. I just wanted to reach out while the thought was in my mind.

Thanks again for our special time this week Jason. You're in all our hearts and minds.

Matt
To which he responded:
Thank you so much Matt.

I love every aspect of your suggestions (a perfect match to my values). I gratefully accept.

Since my bladder cancer diagnosis in 2017, the PA Hospital has been extremely supportive. They are currently fundraising to help raise the quality of life for cancer patients…

Here's a link to find out more: https://www.dryjuly.com/beneficiaries/princessalexandrahospitalbrisbane

Perhaps donations could be made there? Also, I hope that my little book ("Timeless Truths for Today's Teens") is downloaded & enjoyed by more people.
So as per Jason's last ever text to me, please feel free to donate to the good people at the PA Hospital by clicking this link. Jason's family would also like to acknowledge the staff at St Vincent's hospital that made his final weeks as comfortable as possible.
And to download Jason's 'Timeless Truths for Today's Teens' (a gentle guide from a former teenager who failed at school, but went on to succeed at life on his own terms) click here:
And with Jason's blessing, here is my favourite presentation that he shared at our Brisbane Property Networking Group meetup in 2013.
As you'll see, he was a master of creating win-win outcomes and his honest, genuine approach is nothing short of inspirational.
Enjoy Jason's everlasting commitment to making the world a better place:
Please feel free to share this blogpost or any of the links within it to continue Jason's legacy.
Our deepest sympathies & condolences go out to Jason's family, especially his Mum, Di and Dad, Nicholas, partner Rachel, son Mitch and daughter Tegan.