How To Find A Property Deal And Secure $70,000 Profit… In Just 30 Days!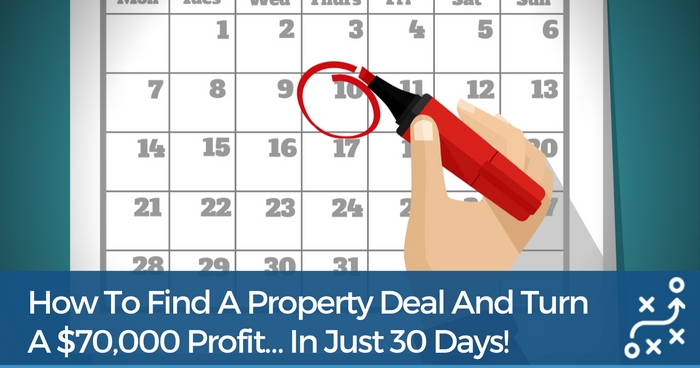 Welcome to the final installment of the 30 days property investing challenge!
If you missed the previous installments of the challenge, you can catch up here:
15 Real Deal Case Studies… For Free!
So today we're here for the final verdict…
Is it possible to find a deal and see it through while making a $50,000 profit in under 30 days?
The answer, as it turns out, is a resounding YES! But before I give you the full scoop though, I want to thank Nhan Nguyen again .
It took a lot of courage to take on this inspiring public challenge and put himself out there, risking his own reputation.
But more than that… I want to thank Nhan for…
Giving you a FREE PASS to his widely acclaimed Accelerated Property Seminar!!!
You will learn:
How To ATTRACT GREAT DEALS – In Any Market Conditions
How To Buy Property NO MONEY DOWN and have money left over!
How To 'Achieve Win/Win' – So price is no longer an objection.
How You Can Quickly Find Motivated Sellers who want to sell you their property at a Discount…
How To Find Free Blocks Of Land and lock in $100k Profit in 6-12 months
Why Quitting Your Job & making Money in Property is Easier than You think!
PLUS…
WHERE THE "CRACKER DEALS" HIDE and WHERE TO FIND THEM
How To Eliminate ALL "DUD" Property Deals
How Your "Mobile Phone" is your greatest asset in finding Investors & worth Millions
AND….
The Power Of Team – Why Being Independant Is Costing You Millions – And How To Quickly Build A Great Team
The Ability To "Ask For What You Want"
How To Know When A Cracker Property Deal Is Staring You In the Face
The seminar will take place on MONDAY AUGUST 22nd 2016 at The Colmslie Hotel, cnr Wynnum and Junction Roads, Morningside (Brisbane) at 6.30pm (day concludes at 9.30pm). You can read more about it here.
If you want to attend for free, here's what you need to do:
It's easy. Just leave a comment below this post telling us why they should get the tickets. There are only 5 tickets left so if you can make it I strongly suggest you comment right now – even before you continue reading this post.
JUST DO IT — It Really Is Worth It!
…
…
…
OK, did you leave a comment yet? Great!
(Really, if you haven't, you're robbing yourself of a massive opportunity to learn from one of Australia's finest investors… for free…)
So now that you're back, click play on the video below to get the play-by-play of how Nhan secured a hefty $70,000 profit… in just 30 days… and it all started when he wasn't even in the country!
Once again I want to thank Nhan for sharing this amazing challenge with us.
If you've been inspired by this, make sure you leave a comment below to claim your free pass to Nhan's Accelerated Property Seminar!
The Property Oracle is BACK!
Discover:
How to accurately

predict

if your local property market is headed for an upturn, downturn, stagnation, or recovery!
Where are construction prices headed?
What's the

latest

outlook for the housing market?
What's next for interest rates? And…
Where's the low hanging fruit going to be?
This FREE live broadcast may be the most important property webinar you attend this year!