Change The Way You Do Property Deals... Forever!
Change The Way You Do Property Deals... Forever!
Hi, my name is Matt.
I'm an everyday property investor — and I've discovered how you can solve the biggest problem everyday investors like us have faced for years..
For me, it went like this:
My old job left me with no time and no energy at the end of the day to pursue property investing.
I knew I had to quit if I ever wanted to get serious about my goals... There was just one big problem.
And that's the problem everyday investors face!
Once you quit your job… the bank is far less likely to fund your projects!
It's a real "Catch 22": Either you keep working and never have time to invest…
or…
You fire your boss and struggle with borrowing money from the bank.
But there's a third option most people don't know about... and I found it!
(And look what happened when I showed it to Simon!)
The No. 1 Best Way To Make Big Bucks In Property As An Everyday Investor!
I left my job to pursue property investing, and as soon as I found my first cracker deal (and got my first "no" from the bank…) I knew:
I had to get into Joint Ventures!
There was no other way for me to "get in the game."
I found deals… I just needed funding. And Joint Ventures provided that in abundance.
I completed one deal. Then another. And another...
See, the great thing about Joint Ventures is, you don't need to meet all the pointless requirements of a bank to get funds.
All you need is a cracker deal yourself!
As a result of all my joint ventures generating cash for me month after month after month…
... pretty soon I didn't have to do any more deals myself.
So I took my family on a three-year "early retirement" vacation in Europe! And while I was away…
My money kept working for me back at home!
I took advantage of the other great thing about Joint Ventures. I took the 'money partner' side this time.
Now, instead of me being the one who had to find the deal and bring it to the table… SOMEONE ELSE was doing all the hard work for me!
And, even better, paying me a share of their profits!
Meaning I no longer had to do ANYTHING… and my "money tree" just kept growing.
Giving me back between 12% and 18% on my money.
Like magic!
Digging our stress-free lifestyle!
Now You Can Do This Safely AND Easily, Too!!!
Ever since I got back to Australia, people have been asking me to teach them how they could do the same:
Get deals funded at the drop of a hat…
Or…
Earn 12%-18% return on investment without having to find a deal yourself or do any work. 
An exciting world where earning money really is easy... but most everyday investors will never enter.
That's why I've created the Property Launchpad…
Everyday Investors Creating
BIG-TIME WEALTH
Together!
If you have a cracker deal but lack funding – you can go home with your deal 100% funded!
Or…
If you have cash or access to servicing but can't find a deal – I will show you how you can earn 12%-18% ROI without lifting a finger or doing any work!
In just three days, you will go from newbie to Joint Venture expert.
And more important…
Through the exclusive networking & partnering opportunities at the event…
You will now have access to the fastest way there is to creating big wealth. Safely and predictably.
Finally solving your biggest property investing challenges!
Everyday investors find connections to long-term property wealth.
Information 99 out of 100 people in property have no clue about.
Property Investor & Mentor
"Get my full, robust, comprehensive Joint Venture System…
On A Silver Platter!"
Business and Property Coach
"Kill procrastination.
Eliminate self-doubts.
Build your property empire.
Here's how!"
"Key financial loopholes no 'regular' banker would dare tell you!"
Property Development Aficionado
"Transitioning from simple renos to bigger deals with massive paydays!"
Joint Ventures and Property Development Rockstar
"Inner secrets professional investors don't want you to know…
From a guy who completed over $200M dollars in property projects!"
Chartered Accountant and Tax Advisor
"How to get tax breaks on your property previously only available to the super rich!"
Expert Solicitor In Property, Commercial, and Vendor Finance law
"Details about property finance law you'd much rather learn sooner than later!"
Private Funding Connoisseur
"Outside-of-the-ordinary funding solutions that work… even when no 'conventional' funding is possible!"
How good are these speakers?
Until recently, the only way for you to get into the world of joint ventures was through painful trial and error.
You couldn't just open a book and learn how to do these things IN THE REAL WORLD.
Because there are none!
Nor can this information be found anywhere else online or offline.
You'd have to figure it out on your own...
You'd have to spend A LOT of money consulting with solicitors and accountants to find the right way to set everything up.
But guess what? I've already figured it all out for you!
The Most Robust and Comprehensive Joint Venture System In The Country… On A Silver Platter!
In my many years as a Joint Venture property investor, I've hired the highest ranked financial and legal experts money can buy.
I've paid them tens of thousands of dollars to figure out the best business setups and structures for Joint Ventures.
I've paid them to find the best ways to:
Reduce (or almost eliminate) taxes
Eradicate risk
Cut setup fees
Protect everyone's assets
Avoid litigation
And… (of course…)
MAXIMISE PROFITS!
I've spent close to one hundred thousand dollars over the years on creating a library of rock-solid contracts, templates, and documents.
But the most important part? This system has been battle-tested. 
I've been using this setup, these documents, these templates for 15 years now.
It's how I created big-time wealth for me, my family, and my joint venture partners – – even though I started from absolute scratch.
And now I'm giving my system to you… on a silver platter!
Best Speakers… Best Networking… Best Opportunities… And… THE BEST TIME!!!
Having run dozens of property events and conferences over the last decade…
I know a thing or two about what makes a successful event.
For starters, I hate the large hyped-up property events – they suck!
You can't really make any meaningful connection spending 3 days with another 300 people.
(And you never have any time with the speakers, either.)
No.
To truly have an impactful experience… one that does move the needle for you…
You need three days of focused action. Rubbing shoulders with world-class speakers and the superb company of like-minded investors.
Which we ensure through our one-on-one, personal application process.
A small, tight, intimate event – that's how you create real magic and real results.
And…
You need a venue worthy of such a life-changing event.
Which is why I host the Property Launchpad at the luxurious Oaks Oasis Sunshine Coast resort!
So not only will you enjoy a weekend with me and my guest speakers…
You will also enjoy fun, frolics and friendship building with a company that's nothing short of world class!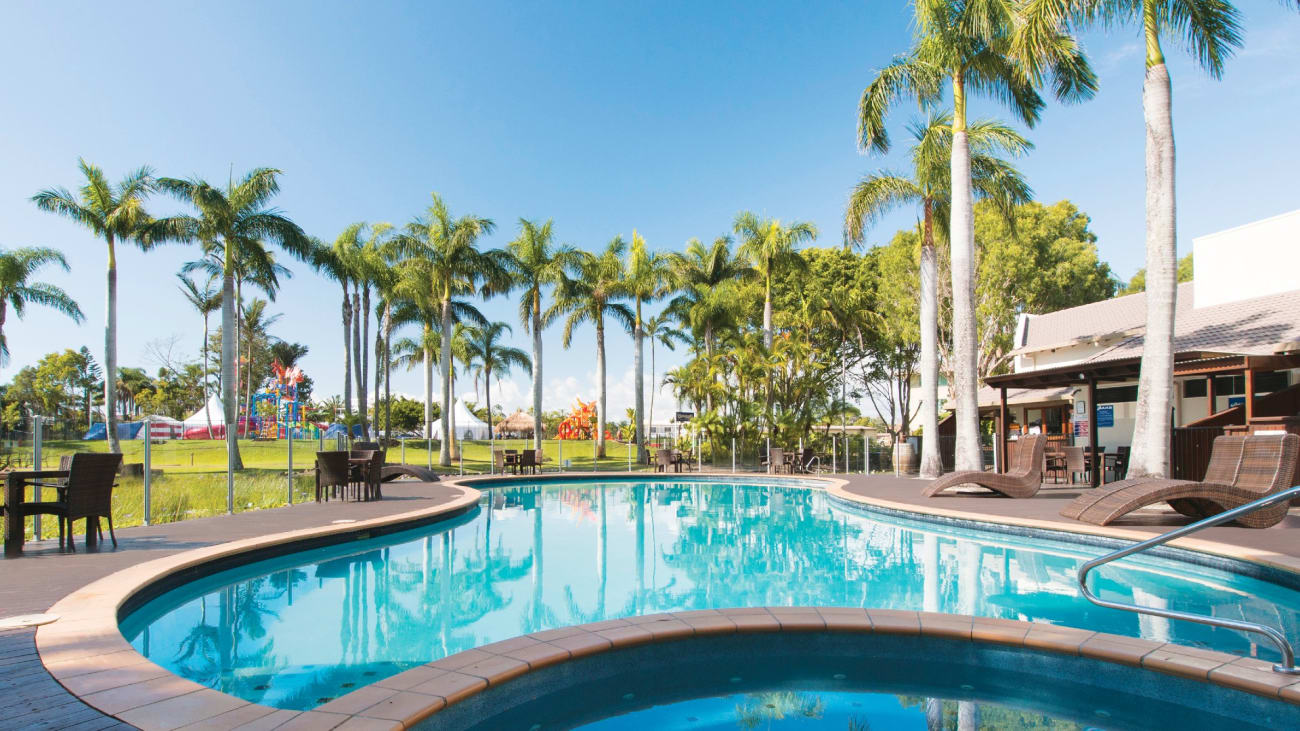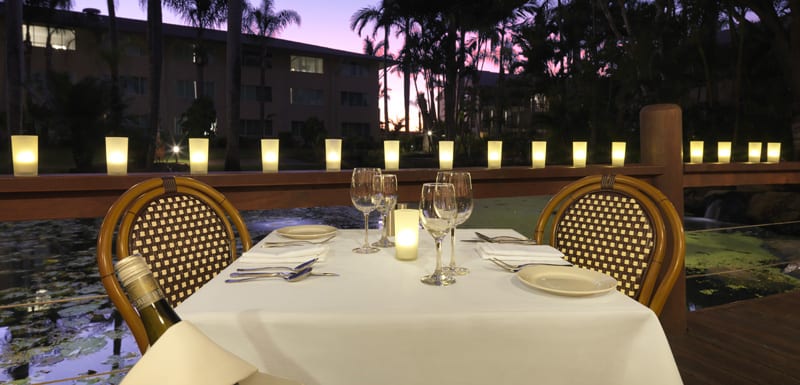 Day-By-Day Event Breakdown
Why you don't need to continue working to fund deals anymore
How to find, assess and acquire joint venture partners
Being the money partner – how to earn 12%-18% return on investment with hardly any work
Deal setup - everything you need to know – from rates of return, to securities, to due diligence… and everything else!
Mezzanine financing, private finance, and other creative avenues for funding
Personality profiling and my proprietary SCREEN method for finding the right people to invest with!
Networking Time!
Drinks and food platters at the pool for speakers and attendees!
The 9-page checklist for assessing deals and pitching them
"Shark Tank" presentations - your chance to offer a property project to the group and get funded on the spot!
Case studies from JV veterans!
Tax minimisation secrets for JVs! (some of these even experienced accountants don't know about!)
MICHAEL MATUSIK KEYNOTE!
Fact-based review of where the market is... and... where it's really headed!
Our Private Funding Connoisseur shows you how to get any deal funded… by midnight!
Asset-protection and investor protection… everything you need to know… custom tailored to YOUR own situation!
More Networking Time!
Dinner with all speakers and attendees at the resort lakeside restaurant!
Planning your path to freedom –– creating your 30 day, 90 day and 365 day business plans
Two more "Shark Tank" presentations - your chance to offer a property project to the group and get funded on the spot!
My own solicitor walks you through ALL the legalities of a joint venture arrangement!
Types of Joint Ventures, compartmentalising, avoiding disputes, profit splits and rates of return
How to turn a joint venture business into a multi-million dollar asset you can sell!
The road ahead – where to find more deals and more JV partners once you go home
Interested in Attending? Of course you are…!!!
Property Launchpad
3-day Exclusive retreat for everyday investors!
Oaks Oasis Resort
Sunshine Coast
What Results Can YOU Expect?
Property Launchpad graduates are already earning huge wads of cash using my very system:
Jim Valery made $300k after the last bootcamp!
Hoa Nguyen and Peter teamed up and made $136K profit in 5 months
Simon Johnson is now earning 18% on his money!
And those are just the graduates of ONE Property Launchpad retreat!
One graduate earned $70k in a few months as a money partner – without lifting a finger!
Others have left the stock market slaughterhouse behind.
Now they earn 12-18% pa interest on their savings day in, day out.
And needless to say…
If you have a deal that stacks up…
Being able to now get it funded within minutes will be a total GAME CHANGER for you!
Whether you are the active-investor type…
Or the passive money-partner type…
You can do this too – safely and easily!!!
That's where I, and the Property Launchpad event, come in.
With my team of experts, we will walk you through everything you need to know.
Ushering you into this exciting world of profitable joint ventures.
Click the button below to APPLY NOW while there are still seats left.
Let's have a 100% no-obligation chat, and see if this is right for you.
Click the button and book a time with me now.
I look forward to chatting with you.
Matt Jones
Why our graduates make so much more money than the average investor!
Many people wonder how come our graduates make so much more money than the average everyday investor?
It's simple.
The Property Launchpad is not just the #1 Most Practical Joint Venture Education you can get… It's also the
#1 Best Property Networking event in the country!
This event teaches you everything you need to know to start doing profitable Joint Venture deals… AND…
Provides you with the critical connections you need to do this QUICKLY – and see profits right away!
Many of our students find a profitable JV deal they can get involved in right at the event… And go home with a highly profitable deal already in motion!
That's right – we don't just talk about profitable property deals... we actually help each other find and DO profitable deals, together! 
Here are some of our graduate stories…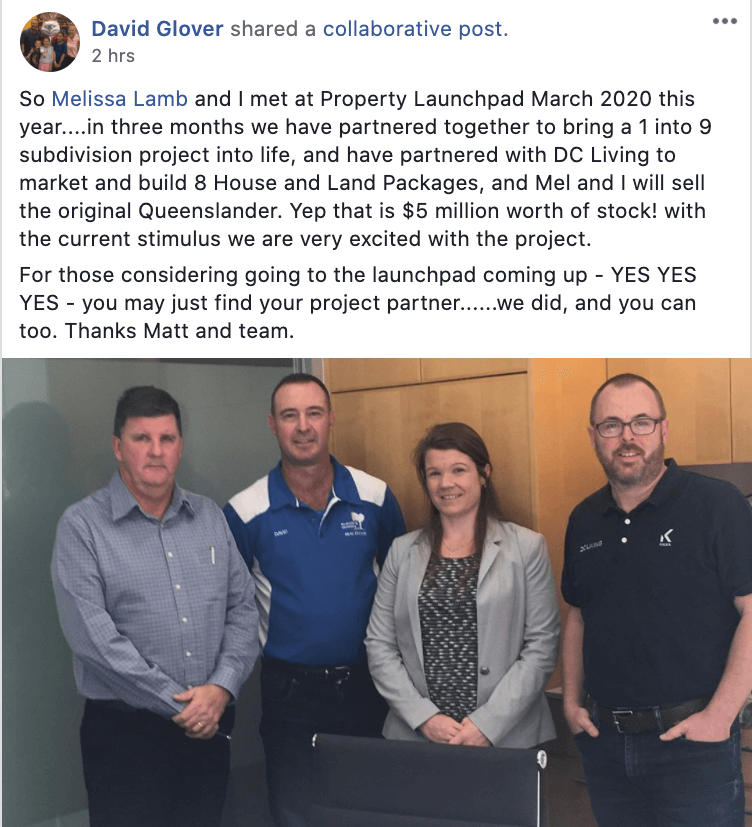 David Glover and Melissa Lamb signing off on their first Joint Venture!
Apply Now To Save Your Seat!
Property Launchpad
3-day Exclusive retreat for everyday investors!
Oaks Oasis Resort
Sunshine Coast